home
This site will introduce to you FTA(Free-to Air) digital satellite tv services in addition to your digital satellite pay tv services. FTA has been around for years and due to legal battles between FTA and pay tv particularly in South Africa, FTA has always operated on broadcasting religious and current afffairs channels rather than the usual entertainment and sports channels. But day by day this battle is won by FTA.
Openview HD launching 15 October 2013 - 12/10/2013

Despatch – This is the only FTA platform in South Africa to keep its promise. Many have come and gone including paytv platforms. What is interesting on their channel line-up is this channels: etv, emovies+ and Glow tv.



Glow tv seems to be HD with promo video above showing blockbuster line-up programs and movies. Hopefully should be this channel. Retail prices for the decoder plus installation is R1599 and decoder alone R999. Will wait and see come 15 October 2013. read more>>>>>
Vivid to relaunch as FreeVision - 01/09/2013

Despatch – Sentech the South African television signal distributor will relaunch its Vivid bouquet on Dstv satellite to FreeVision. The relaunch will happen at the end of September 2013 and further info on the channel line-up will be released prior to launch date. This is another Free to Air initiative after Openview HD promised to launch in October 2013.It seems the Free To Air game is about to start but will it live up to its expectation, is left to be seen. Currently the Vivid bouquet has been beefed up by scrambling their channels and upgrading its decoders to accommodate DVB-S2 broadcasting and nagravision encryption for conditional access control. The new decoder comes standard with USB interface for hopefully PVR functionality at a later stage.read more>>>>>
Openview HD Free To Air Satellite DTH test signal live on SES 5 - 22/07/2013

Despatch – Openview HD started its roadshow in Port Elizabeth to installers about the new satellite DTH Free To Air channels on SES 5 satellite at 5 degrees east, the same satellite TOP TV is broadcasting its pay tv service. The launch is anticipated to be in October 2013 and will be broadcast in DVB-S2 with minimum of 15 channels and 5 of them in High Definition.read more>>>>>


New HD FTA Bouquet to launch soon - 16/07/2013

Despatch – Invites are going around for the new satellite TV roadshow that is dedicated to offer FTA channels in HD according to their website. Openview HD details are sketchy but seems e-tv is behind the new satellite tv.read more>>>>>

DTT coverage map - 19/06/2013

Despatch –
As at 28 March 2013, SENTECH had recorded an 80.43% DTT population coverage, thus exceeding the targeted 80% coverage; four days before the deadline. This was achieved though the installation of 62 additional sites mostly located in rural areas.read more>>>>>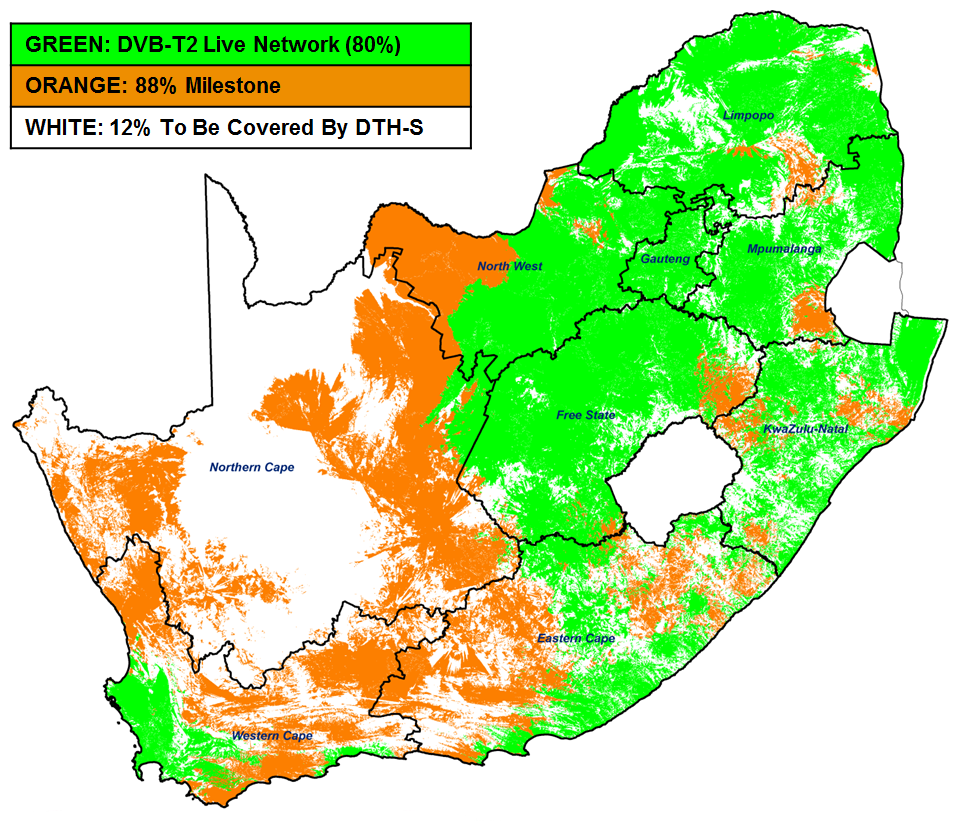 Eutelsat successfully launched Eutelsat 3D - 12/06/2013

Despatch – EUTELSAT 3D has been built for Eutelsat by Thales Alenia Space using its established Spacebus 4000 platform. With a baseline design equipping it to strengthen Eutelsat's overall in-orbit flexibility and back-up from multiple orbital slots, EUTELSAT 3D will initially be located at the 3° East orbital position to address high-growth video, data, telecom and broadband markets.

Through its configuration of Ku and Ka transponders connected to three footprints, the new satellite will serve customers in Europe, North Africa, the Middle East and Central Asia. A fourth service area in the Ku-band will address markets in sub-Saharan Africa. EUTELSAT 3D will operate at 3° East until the deployment of the EUTELSAT 3B satellite to this position in 2014 to provide spectrum growth and high levels of operational flexibility in C, Ku and Ka bands. It will subsequently continue service at 7° East. According to Eutelsat website
South Africa DTT roll out coverage on track - Sentech - 13/04/2013

Atteridgeville – 80.43% of Sentech terrestrial analogue network have been upgraded to Digital Terrestrial Television, Sentech website.
Techcentral reports that Sentech expects to complete the project by March 2014 when it reaches 88% population coverage. The remaining 12% will receive SABC channels via direct-to-home satellite.
Mindset learning channel is FTA - 13/04/2013

Atteridgeville – This channel is a Free To Air channel streamed to schools around the country through Sentech bouquet on DSTV and can be accessed on DSTV public bouquet even when your DSTV is blocked, exactly the same as the Mindset Learn channel on DSTV and Top Learn channel on TOP TV.
Nu Web IPTV promises over 150 channels and Video On Demand at launch - 22/02/2013

Uitenhage – Nuweb.tv website promises online HDTV with over 150 live tv channels, 7 day catch-up TV and Video on Demand. They are set to launch late march 2013 according to their website, The service will be provided on a web based platform for mobile phone, tablet and PC and by purchasing a set-top box for DSL connection for your home viewing. According to Techcentral the 1.4Mbits adsl line will be required to stream this content.

TOP TV NEW SES-5 NOW OPERATIONAL AT 5 DEGREES EAST AS OF 19/09/2012

Luxembourg – September 17th, 2012 – SES S.A. (Euronext Paris and Luxembourg Stock Exchange: SESG) announced that the SES-5 satellite is now fully operational at the orbital position of 5 degrees East. SES-5, successfully launched on July 10 on board an ILS Proton rocket, was designed and built for SES by Space Systems/Loral (SS/L). The spacecraft features 36 active Ku-band transponders, and up to 28 active C-band transponders and is now ready to deliver high performance and extensive coverage for Direct-to-Home (DTH) services, broadband, maritime communications, GSM backhaul, and VSAT applications in Europe, Africa and the Middle East.
TOP TV long awaited SES 5 satellite at geostationary orbit position of 5 degrees replacing SES 4 satellite successfully launched 10/07/2012

Top TV has long since promised HD and PVR and only when bandwidth will be available and this is their chance to do so. Top TV should look into allowing more FTA channels with their DVB-S2 technology to increase its market share, and for that matter own the FTA bouquet with an add-on of existing premium (beefed up) content in order to be more competitive.
GauTV on the pipeline for Gauteng residents via satellite

Mzansi Community Satellite TV, trading as GauTV, wants to launch a satellite television bouquet catering to Gauteng residents, specifically those who haven't traditionally enjoyed satellite services. It plans to launch services within six months of receiving a licence to broadcast.
read more>>>>
Top TV introduces prepaid voucher for satellite pay TV

TopTV customers can now get access to unlimited entertainment with the prepaid voucher. It's easy. It's
instant and it's convenient.


Here's how it works:


1. Customer purchases their TopTV Prepaid voucher from Pep stores from 1 July (coming soon to
other retailers)
2. There are two price packages to choose from: R109 for the TopTV Variety package and R279 for
the TopTV Ultimate package. PLEASE NOTE The Top Star channel is currently not available on
the TopTV Prepaid option
3. Using THEIR cell phone, the customer dials *120*TopTV(86788)# and follows the prompts to
activate their TopTV Prepaid voucher
4. The customer will need to enter their TopTV 12-digit Smartcard number and the voucher
number
5. The voucher is valid for a period of 30 (thirty) days from date of activation
6. If not activated, an unused TopTV Prepaid voucher is valid for 3 (three) years from date of
purchase
7. If a customer buys a R109 voucher and activates it, they can upgrade to the Ultimate package
during the 30-day activation cycle. Once the 30-day cycle of the Ultimate voucher is complete,
they can continue viewing TopTV on the initial voucher until the 30 days are up.
8. If the customer has a TopTV decoder and dish, but is not a current TopTV subscriber, they may
purchase and activate a TopTV Prepaid voucher and enjoy a world of unlimited entertainment
immediately – no reconnection fee. .

Finally the DTT set top box or decoder will have a return path or internet connectivity

This will make it possible to connect to the internet through a third party of some sort or the broadcasters will offer the service, but chances are it will only be for general surfing of the web,viewing and sending e-mails and cloud computing.
SADIBA (Southern African Digital Broadcasting Association) recommends wideband grid UHF Aerial for Digital Terrestrial Television in some areas of the country

As expected after tests were done according to Dave Hogan of SADIBA some viewers in certain areas may need to have an outdoor wideband grid UHF antennae installed to recieve DVB-T2 signal to avoid frozen pictures or total loss of signal now and again. The rule of thumb at this moment is that if you have problems receiving e-tv with your normal indoor aerial, you are more likely to have problems with the DVB-T2 signal. This aerials currently retails at around R250 but prices may move up due to demand or may stay the same due to cheap ones on the streets. Bearing in mind that it will not be easy to install the aerial yourself, a professional installer will have to do it for you for peace of mind.
Digital Terrestrial Television Final Draft Spec for Decoder issued on 17/12/2012

After years of rigorous debate, the South African Bureau of Standards (SABS) has finally issued the final draft minimum standard for the set-top box decoders that will be used to receive digital terrestrial television signals in South Africa.
The spec include: DVB-T2, Access Control, SD & HD 1080p, 5.1 surround sound, usb port, hdmi and etc.
read more>>>>
Digital Terrestrial Television anticipated to launch in September 2012
To

be

precise only an indication that the switch could only be in 3rd quarter 2012, that is only when will we see commercialization of DTT in South Africa with more Free To Air channels being introduced but one will require a STB box to receive the signal. The set price will be around R700 for the decoder and for those who currently have difficulty in receiving e-tv channel will most likely require an additional outdoor UHF aerial.
Eutelsat is changing names of its satellite fleet
Eutelsat has unified the names of its satellites with the Eutelsat brand. As of
March 1st 2012
the Group's satellites all take the Eutelsat name, with the relevant figure for their orbital position and a letter indicating their order of arrival at that position. This logical pattern enables our user community to immediately identify where a satellite is located and its chronology at the neighbourhood it occupies.
read more>>>>

FundaTV will be broadcast on Intelsat New Dawn Satellite at 32.

9 Degree East
One will require a FTA, MPEG4, DVB-S2 decoder and a 65 cm satellite dish pointing to Intelsat New Dawn Satellite

Orbital Location 33 degrees East
Down-link frequency – 11015Mhz
Down-link polarity – horizontal
Symbol Rate – 30000
FEC 5/6
FundaTV to be launched for Free to Air TV by iBurst



A new free to air satellite channel, Funda TV, will be providing South Africans with an amazing opportunity to take up a number of valuable courses from some of the world's leading universities including the Massachusetts Institute of Technology (MIT) and Stanford University in America. This will be done using the Distance Learning Model where millions of young South Africans will be able to receive vocational learning in the comfort of their own homes. Funda TV will be providing these Vocational lectures and Practical demonstrations on a free to air satellite channel available to every South African with Satellite TV access.
This is the iBurst Social Investment initiative by its Chief Executive Officer Mr. Thami Mtshali. The idea came about as a result of the recently witnessed challenge where a parent lost her life while trying to secure registration for her son at the University of Johannesburg. This made it evident that the number of Universities, Colleges and Higher Education Training Centres unfortunately cannot meet the demand that the increased number of matriculants present to these institutions. Thus Funda TV is designed to open up the learning arena generally reserved for physical campuses and learning institutions, thereby helping educate many more students.
Funda TV is offering a number of courses on the channel aimed at extending technology knowledge and skills for the youth and is offering material from elite American universities and many other institutions. 'We will be teaching the South African Youth courses like artificial intelligence, how to build search engines, Website Design, Wi-Fi setup, Satellite TV installation, Digital Terrestrial TV (DTT) installation and many other skills," said Mtshali.
"We calculated the cost of educating one student at a South African university to be around R350k over a three year period whereas with the courses on Funda TV a student could get a qualification for as little as R2000, which pays for your Decoder and a TV if you don't have one" he said. Funda TV will be available on a free to air basis and students will have to purchase free to air decoders to access these courses. Students will be able to interact with the Lecturers through a web platform for tutorials and will be able to send sms' to pose questions to lecturers as the lecture happens.
According to Mtshali, this will be the first time that Africans are able to receive true life skills and acquire a career skill which prepares them for the "real world" at such minimal cost. This has been a long-standing dream of his. Mtshali is already involved in other initiatives aimed at bridging the access to education gap present in many of the country's underdeveloped areas, such as the Jacob Zuma RDP Education Trust which he is a trustee of.
"Every year we as the Trust unfortunately have to reject thousands of applications from brilliant students who most unfortunately come from historically and still underprivileged communities due to insufficient funding resources that the Jacob Zuma RDP Education Trust has at its disposal," said Mtshali.
Funda TV is aimed at bridging that gap and at simultaneously helping to save time and money by using ready-made training materials and trainer resources which equip these students with the necessary skills to in turn provide some of these services and earn their living.
"The whole concept is really simple, you basically just use what we offer through Funda TV to get Off-the-shelf high-quality training resources include trainer notes, slides, exercises and practical demonstrations" added Mtshali.
"Our Skills programme is aimed at being as flexible as possible to cater for learners who may be working during the day and can only access such information after hours or over weekends", said Mtshali. He said the programmes would be aired daily at 16h00 and also over weekends.
read more>>>>
Samsung to launch Free to Air Satellite TV



Samsung will begin selling television sets in selected African markets that come bundled with a satellite tuner that will allow consumers to watch a free television bouquet of more than 60 channels provided by satellite operator SES.
The LED-backlit LCD flat-panel TVs, known as the Samsung LED TV Free Satellite, will be available to consumers in Nigeria, Ghana, Senegal, the Ivory Coast, the Democratic Republic of Congo and Cameroon in the third quarter of this year 2012.
A Samsung spokesman wasn't immediately able to say when or even if the service will be available in SA.
The company says in a statement that it hopes to bring more channels to more African regions in 2013 with a new satellite from SES to be used for this project.
Through its agreement with SES, Samsung says it will provide approximately 30 English channels and more than 30 French channels to television viewers.
Christoph Limmer, SES's senior director of marketing development and marketing in Africa, says the deal with Samsung will bring digital content to more African consumers and encourage African broadcasters to launch more free-to-air content in the region.
"In serving more than 40 African countries, we are well aware of the huge demand for greater services — both quality and quantity," says Limmer. —
Staff reporter, TechCentral
Setup of FTA Channels on DSTV Decoder for models 1110 & 1131
Directions:
Using your remote control, press MENU.
Now select ADVANCED OPTIONS, and press OK.
Now select LNB CONFIGURATION, and press OK.
Select LNB 1 SETUP, and press OK.
Verify that LNB HI FREQUENCY is 10700. If it isn't, change it to 10700, and select ACCEPT THESE SETTINGS.
Press EXIT.
Now select DISH INSTALLATION, and press OK.
Enter the PIN number 9949.
Now select NETWORK CONFIGURATION and press OK.
Select each network setup from this screen, and enter the settings as below.
The first option is only there for reference. You should not change settings in the home network.
At each point, you may wish to select VIEW SIGNAL STRENGTH to check if that signal is valid for your installation.
Select ACCEPT THESE SETTINGS for each network setup when you are done.
If your decoder does not give you any options and goes straight to the parameter input menu then you have a decoder with old software. You will only be able to have either DStv or another FTA bouquet, one at a time.
Network setup details:
Network 1 Setup (home) [DStv South Africa @ PAS 7/10]
Signal Setup: Enabled
Orbital Position: PAS7/10
Use NIT: Yes
Frequency: 10970
Symbol Rate: 30000
Polarisation: Vertical
FEC: 5/6
Network 2 Setup [Sentech Vivid bouquet @ PAS 7/10]
Signal Setup: Enabled
Orbital Position: PAS7/10
Use NIT: Yes
Frequency: 11170
Symbol Rate: 266652
Polarisation: Vertical
FEC: 5/6
Network 3 Setup [BTV @ PAS 7/10]
Signal Setup: Enabled
Orbital Position: PAS7/10
Use NIT: Yes
Frequency: 11625
Symbol Rate: 15000
Polarisation: Vertical
FEC: 2/3
Network 4 Setup [FTV @ PAS 7/10]
Signal Setup: Enabled
Orbital Position: PAS7/10
Use NIT: Yes
Frequency: 12722
Symbol Rate: 26657
Polarisation: Horizontal
FEC: 2/3
Network 5 Setup [ManaSat @ PAS 7/10]
Signal Setup: Enabled
Orbital Position: PAS7/10
Use NIT: Yes
Frequency: 12577
Symbol Rate: 3378
Polarisation: Vertical
FEC: 3/4
Network 6 Setup [Novacom @ PAS 7/10]
Signal Setup: Enabled
Orbital Position: PAS7/10
Use NIT: Yes
Frequency: 12682
Symbol Rate: 26657
Polarisation: Horizontal
FEC: 1/2
Scanning:
Now press EXIT and go to the DISH INSTALLATION menu again.
Select SCAN ALL NETWORKS.
Your decoder will now attempt to scan and add all the channels.
Once it has tuned and returned to normal viewing mode, press the TV button to display the bouquet list.
Select the last option (Public PAS7/10).
You are now in the public TV bouquet. Scroll through the available channels, which will appear in the order of network setup (DStv test channels, Sentech channels, BTV, FTV, ManaSat, Novacom).
Pressing the AUDIO button will switch to the public audio bouquet. You may find many South African radio stations here.
Notes:
Some of these channels are encrypted.
There's really nothing here for free worth more than you're paying for it. :) You'll see that if you want premium channels, your DStv subscription is the way to go.
Your installation may not be capable of tuning into these settings.
Do this while watching an decrypted channel on DStv (e.g. channel 4).
You need to have your smart card inserted.
To enter a 4-digit symbol rate, place the cursor on the line, press the 0 (zero) key on your remote control, then press OK, then enter the 4 digit number, then press OK.
These settings work for me, on my Dual View decoder, as of this date.
If they don't work on your decoder, that's your problem, not mine.
If you mess up your decoder, that's your problem, not mine. Select RESET TO FACTORY DEFAULTS and reboot.
Source: http://rory.sharp.fm/rites/2006/01/freetoair_tv_channels_on_pas71.html